3 days Popup Surprise
October 16 , 2019 / 5:27 PM


Greetings FS City,
This Halloween, get spooked with this surprise rewards! We will be giving out three (3) different gifts for three days!
You will acquire the rewards for each corresponding day of login. Don't miss out on these rewards!
The gifts to be given away are:
| | | |
| --- | --- | --- |
| Condition | Reward | Reward Sending Date |
| Log in from 10/15 - 10/16 0:00 (PDT) | Cindy's Exclusive Hair (Golden) | 10/16 2:00 (PDT) |
| Log in from 10/16 - 10/17 0:00 (PDT) | 30 FS Points | 10/17 2:00 (PDT) |
| Log in from 10/17 - 10/18 0:00 (PDT) | Character Temporary Card (3 Days) | 10/18 2:00 (PDT) |
The rewards will be sent to your Mailbox on their indicated sending dates. Please make sure you have
sufficient space in your Mailbox!
Happy Halloween!
-3on3 FreeStyle
Character Boost Up Event
October 10 , 2019 / 3:49 PM

Here is an event that gives you rewards for any upgrades on any character you have.
Complete missions and collect as many stars! 120 stars give you the most wanted item, Intensive Manual.
Event Period: 10/10 - 11/06 23:59 (PST)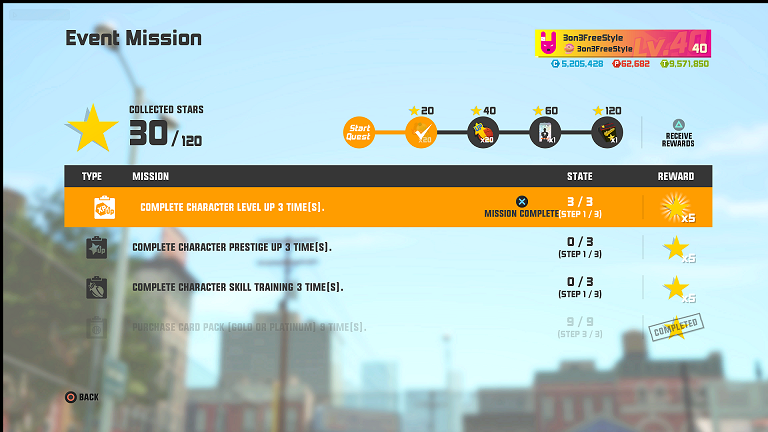 - Mission 1: Level up
- Mission 2: Prestige up
Unlock your Prestige by completing Mission 1 and open it with Manuals!
-Mission 3: Skill up
Use skill Training ball and raise your skill level.
- Mission 4: Purchase Gold/Platinum card
The count goes up for every individual card you purchase. Buy 10 card packs, your count goes up by 10.
Remember it's not about how many times you purchase, but about how many cards you purchase.
Rewards:
​20 Stars = XP Drink * 20
40 Stars = Skill Training Item * 20
60 Stars = Random Platinum Card Pack x5 *1
120 Stars = Intensive Manual * 1​
Halloween Candy Party
October 10 , 2019 / 3:28 PM

​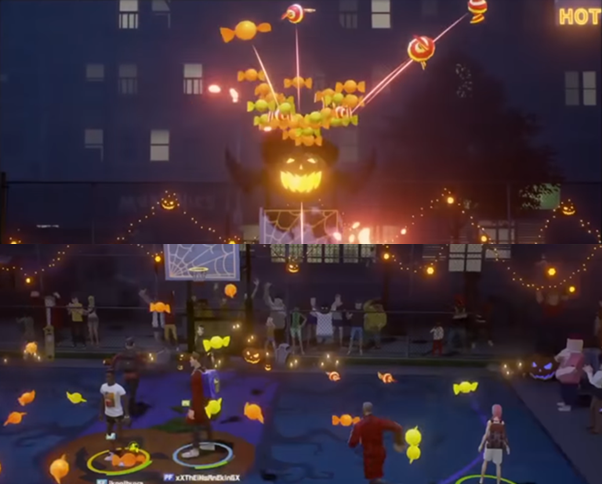 Event Period: 10/17 – 10/31 23:59 (PDT)​
Massive pumpkin head makes candies rain! Play 3on3 match mode and collect candies at the end.
You can replace 12 candies with a random item from Vending machine on the Lobby court.
The machine has a wide range of items that includes the mighty Intensive Manual so try your luck during 10/17 to 10/31.
NOTE: All of the rewards from vending machine is being transferred to player's account directly. (Not to the message box)
Arcade Event ; Zombie Mode Returns
October 10 , 2019 / 3:27 PM

Zombie mode is back!
This is no ordinary survival game because it is not just about fighting off the undead.
There is nowhere to hide either. Take a hint from the game, it is all about basketball in FS city!
Change the color of the ball with X button and score it then you will see the zombies with the
same color get burned off. Try to survive as far as 7 waves to get more random boxes!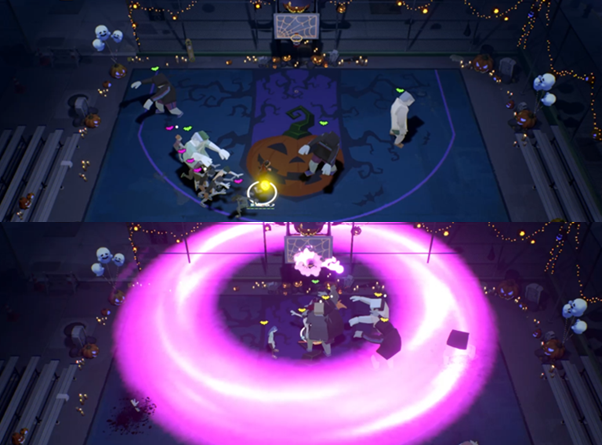 Rule :
- All players are set to play Joey in P5 on this mode.
- Players start off with 3 lives which drain one by one whenever you get a hit.
- 'Breaking a curse' skill kills all the active zombies on the court.
- 'Breaking a curse' gauge fills up whenever you lose your HP or make combos.
When it is full, you can activate the skill by pressing L1 button.
- Combos make your score higher. Try hitting more zombies with the same color at a time and get more combos.
- Joey is invincible when shooting, 2 secs after shooting and 2 secs after getting hit.
- Some zombies have 2 lives which you can tell by the white dot next to the bat that hovers on top.

Final Wave (Boss stage)
As you enter the final wave, you will see the hit gauge on the top.
Boss will get damage only when you hit the same color that shows on the top bar or use 'Breaking a curse' skill.

The final wave has 3 boss phases. His hat changes in each phase and so does his power and his HP.
The boss takes more hits as you go through the phases and summons more zombies.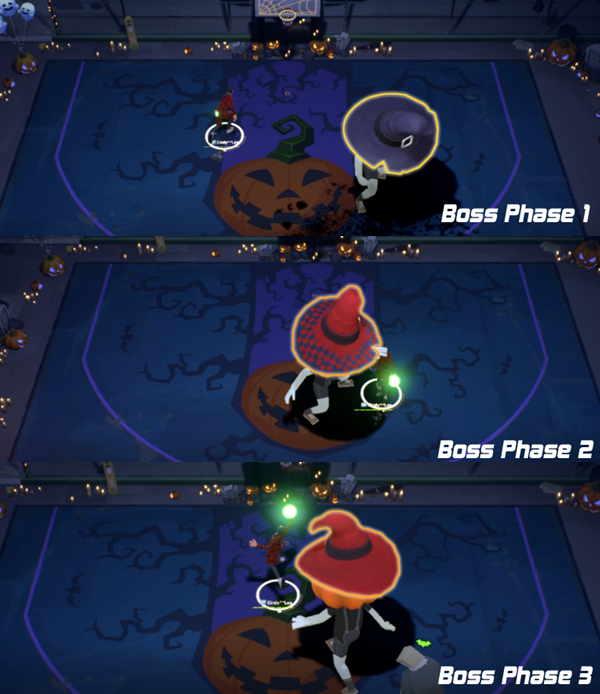 [Boss clear reward]
Fraken Gravestone Backpack!

[High score reward]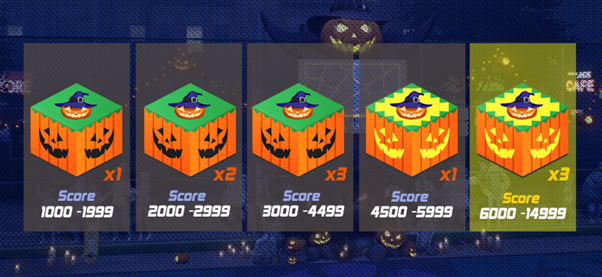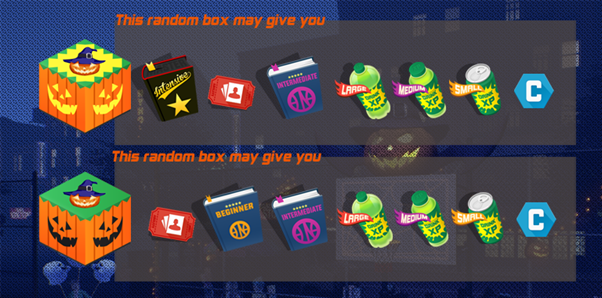 If you ever wonder…
I've played the mode 3 times now and thinking of going for one more for more rewards!
- I'm afraid there is a 3 times limit for a day in getting rewards from the mode.
You could always come back the next day for another go!
Wants to have more rewards? We have the Weekly Zombie Mode Rank Event !
Gold Grade : Random Platinum Card Pack *4
Silver Grade : Random Platinum Card Pack *3
Bronze Grade : Random Platinum Card Pack *2