[Patch Note] Bug fix: chat / resolution / server
October 18 , 2017 / 4:49 PM
​​Greetings 3on3 Streetballers,
Thank you all for playing 3on3 FreeStyle and reporting us a bug.
Here is a list of bugs we have fixed, so please check below.
1. Chat system bug
Following bugs have been fixed:
A. The chat suddenly crashes and shows the HTML codes
B. A Players cannot change the chatting channel (Local/ Team / Crew) by pressing a tab key.
C. An opposing team's group chat is visible to players during the match.
D. A Player can't chat with his team during a Time-out.
2. Resolution
If you have a monitor that does not support 16:9 ratio, the game will automatically find the resolution corresponding to your monitor.
3. Matching server (auto-select)
The game will properly select the matching server that has lower ping automatically.
4. Macro Chat for keyboard
Players who use a keyboard to play 3on3FS may able to use Macro Chat during the match from today by pressing following keys:
1. Activate the 'Macro Chat' by pressing
T
button.
2. Press one of the following keys:
>
1 / 2/ 3/ 4/ F1 / F2 / F3 / F4
** you can't change the keys for Macro Chat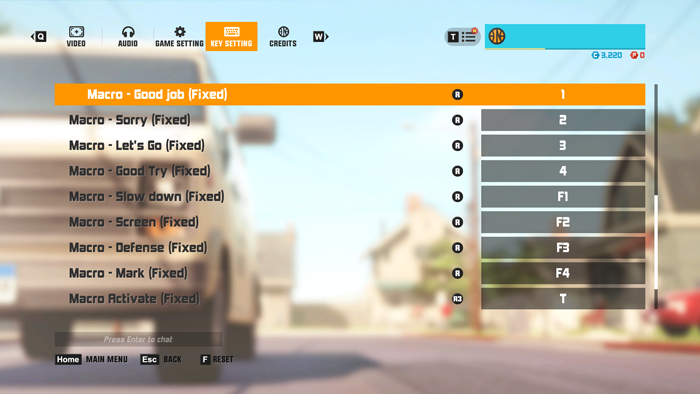 We are also checking on every issue you all have uploaded on the Steam community.
Let us know anytime what should be improved via Steam community board!
(We are considering to add a mouse control option in the future!)
Thank you for your patience and understanding.
- 3on3 FreeStyle