[UPDATE] Patch Note ver. 0.2.50 (January 31st)
January 28 , 2019 / 6:58 PM
Greetings from 3on3 Freestyle.
The followings are the updates for this month.
[Patch Note Highlight]
[System]
1. P-Buff (Position Buff)


Be an expert in your position! Your characters can share buffs with the group in the same position.
You can have as many as 8 buffs. Find out what it's about and how you can best take advantage of this new feature!
How does it work?
Navigate to P-buff on Management and assign a character to a slot.
Add a buff on Position buff 1 and a random buff from the list on the right would come up.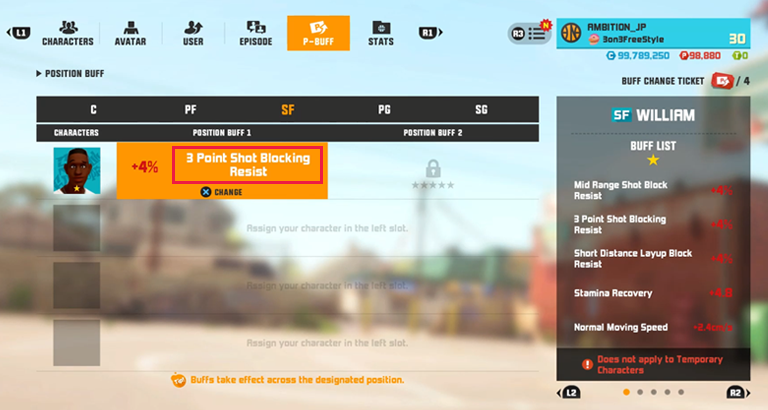 Then move to the other SF position character to see if he got the buff. Like these screen shots, for example,
you can see Amanda has William's Position buff and so as your other SF characters.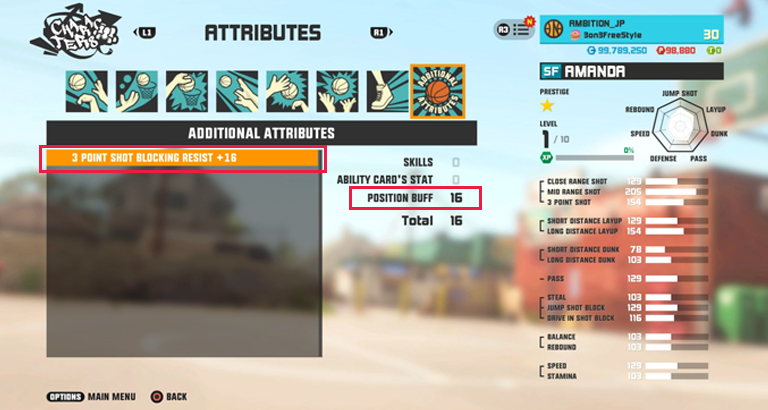 Q&A
1) Are the buffs different by characters?
: Yes, they are. Browse through characters on P-Buff page and check the lists of buffs.
2) How can I unlock the rest of the slots and Position Buff 2?
: Unlock the 3rd at lv.10 and 4th at lv.20. Position Buff 2 is available when the character you've assigned is P5.
3) Can Buff 1 and Buff 2 have the same buff?
: Yes, the same buff can come up twice and give you a double effect!
4) Does the stat change by Prestige?
: Yes, when your character in the slot have higher Prestige, you get better buff.
5) Can't I choose buff from the list?
: I'm afraid you can't, although, you can change your buff to another random from the list by using Buff Change Ticket.

2. Character Stat Boost Event

Here is an event that gives you rewards for any upgrades on characters you have.
Complete missions and collect as many stars! 120 stars give you the most wanted item, Intensive Manual.
Each mission has 3 steps, higher the step is, harder it gets but rewards are guaranteed as you get more stars!
Find out what these missions are about.

Mission 1: Level up
Mission 2: Prestige up
Unlock your Prestige by completing Mission 1 and open it with Manuals!
Mission 3: Skill up
Use skill Training ball and raise your skill level.
Mission 4: Purchase Gold/Platinum card
The count goes up for every individual card you purchase. Buy 10 card packs, your count goes up by 10.
Remember it's not about how many times you purchase, but about how many cards you purchase. ​

[New Contents]
1. New Outfit
The best design for '2018 looking for 3on3FS Rookie designer' has arrived!
Check out this brilliant new design, Unicorn Galaxy, made by Nem**aroZZ!

Calling all costume lovers! FS City Sheriff is here in FS town!

2. New Celebrations
Confidence goes a long way on FS court! Check out 2 new celebrations, Tumbling and Hello!

3. Event: All characters 30% off
Time to gather up your squad! Make FS City crowded with new recruits!
All characters purchasable with Coins and Points are 30% off during 1/31 – 2/27 23:59(PST)

4. 5 Packages for all positions
Packages tailored for your upgrades! Have all your 5 positions upgraded at once.
You can purchase each package up to 5 times! Packages on sale during 1/31 – 2/27 23:59(PST)

5. Hot time Package
Hot time sale for packages from basic necessities to super rare items!
Find out what each weekend is offering and make sure you don't miss it!


6. Extra Point Event

More Points to the amount you've purchased for a week!
Event is for every week in Feb and extra points will be sent during the following maintenance.
| | | | |
| --- | --- | --- | --- |
| All Purchase made during | 2/4 - 2/10 23:59(PST) | 2/11 - 2/17 23:59 (PST) | 2/18 - 2/24 23:59 (PST) |
| Extra Points Sent on | 2/14 | 2/21 | 2/28 |
[Change]
- Christmas court is removed.
[Bug Fixed]
- Minor bug is fixed.