[UPDATE] Patch Note ver. 0.2.53 (May 2nd)
April 30 , 2019 / 10:52 PM
Greetings from 3on3 Freestyle.
The followings are the updates for this month.
[Patch Note Highlight]
[System]
1. A.I Replacement
Any unwanted end to your match from someone's disconnection may become the old story with this new update. This system allows AI to take over disconnected user, helping the remaining players to finish their match.

One big change I have to share with you before you head off. With this update, any disconnect from the match would give you a lost game regardless WHEN you do. I would be careful as this will definitely affect your win ratio.
Allow me to give you more detail with some Q&A session!
What if someone leaves even before the Jump ball?
- A disconnected user would get one lose whilst others, it'd be a no match at all on their record.
Would the inactive user be replaced by AI too?
- No, although AFKing would still get penalties.
Would my counterpart be able to see the pop-up message that AI has taken over my teammate?
- No, the pop-up message would only be visible to you and your team only.
What if I want to forfeit? I'd rather go for another matching than playing with AI on my team.
- Forfeit option will instantly be active as one disconnects. You can forfeit with all the votes from remaining players, even with one vote from one last user.
Would the game be over when all my counterpart leaves the game?
- Yes, the system takes it as your counterpart's forfeit and you would win.
**More questions? Please send your inquiries to CS center and allow us to help you with greater journey into FS City
[New Contents]
1. New Outfit update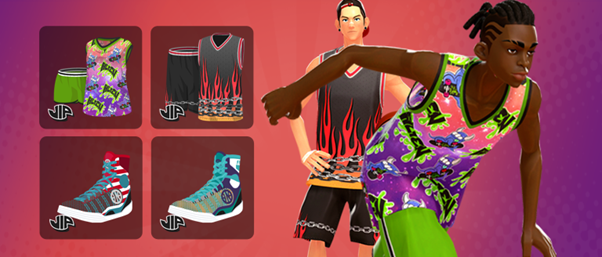 Jerseys update! Items that would definitely make you stand out, I mean one is literally on fire! Check out these 3on3 High-tops that go perfect with them.
2. New Celebrations update

That feeling when your shot goes straight into the basket! Wipe it like it's hot cuz you just feel GGG-Great!
[Event]
1. 17 Coin & Point Characters 30% Off

This May, you have a chance to recruit a full squad. Check out all their unique skills, strength and their personalities!
2. Silver and Gold Ability card 30% Off

What is better than starting with some Silver and Gold Card Packs! Get a bunch for your new recruits!
3. Let's play Roulette!

That event that shook the entire 3on3 community is back! Collect bottle caps from 3on3 mode or Co-op mode and spin the bottle to get random items! Luck may be on your side this time.
[Bug Fixed]
- Minor Bugs have been fixed.
[UPDATE] Patch Note ver. 0.2.52 (April 4th)
April 2 , 2019 / 5:29 PM
Greetings from 3on3 Freestyle.
The followings are the updates for this month.
[Patch Note Highlight]
[System]
1. Tutorial renewal

Hard having to figure out what features there are in the game and how you can best enjoy it?
We have done a few tweaks to tutorial to help beginners to blend in to FS City!
Change 1 : Start the game with 3vs3 mode and see what this game is down to in the first place.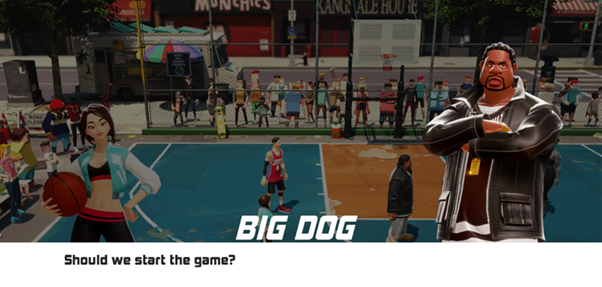 Change 2 : Complete Training quests and walk through different modes and steps to be a pro street baller!
Pack away hands full of rewards along with in-game knowledge. Each training quest offers different set of rewards upon completion.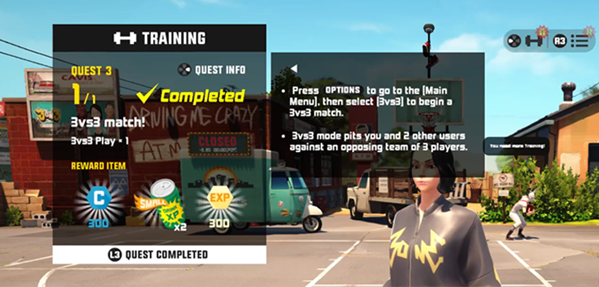 Push your training all the way to Quest 35 and get a Nametag 'Training Master'!

Your training starts from different step based on your current user level. Find out your starting point in the new training system. ​

​
**Please be reminded that your rewards go straight to your inventory, not to Message box.
Q&A
I'm at Max level, can I get the nametag 'Training Master'?
- Yes, any level above 16 can join the training from quest 31 and will be able to acquire the nametag at quest 35.
[New Contents]
1. New Outfit update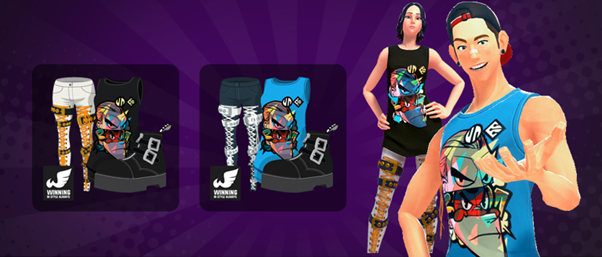 Remember back in early 90th when people knew how to look bold and stylish? Check out new rock 'n' roll outfit and see if you can pull off this classic funky style. 113 Points each!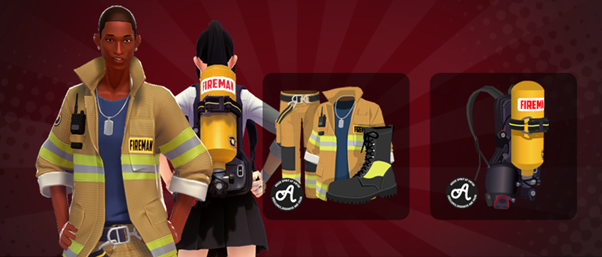 Here's another addition to Costume line! Firefighter outfit. Check out fireman gear that goes perfect with it! Outfit is 129 Points, Fireman gear is 40 Points.
2. New Celebrations update

Wanna give feedbacks to your teammates or whomever on court? Start with these two solo celebrations and show what you think! Each one for 39 Points.
[Event]
1. New Character special packages

If you have already recruited the new character, Little fox, make him ready for big matches with Little fox special packages, put together just for this young lad. Get these packages for 99 Points each.
2. Ability card promotion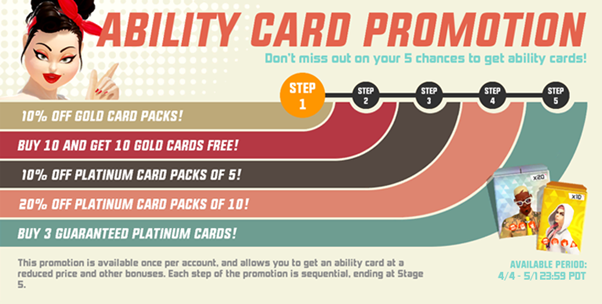 5 Power deals for card seekers are back! Get all deals during 4/4 – 5/1.
3. Special Pick

Pick your favorite board and try your luck till you find your wanted items! Event only during 4/4 – 5/1. Find the detail at ; http://3on3.fsgames.com/en/news/event/ps4/991
[Bug Fixed]
- A bug where celebration preview makes the game crash is fixed.
- Text error on St. Patrick's outfit is fixed.
- Minor bugs are fixed.
[UPDATE] Patch Note ver. 0.2.51 (March 7th)
March 6 , 2019 / 2:22 PM
Greetings from 3on3 Freestyle.
The followings are the updates for this month.
[Patch Note Highlight]
[System]
1. Mega Pass Season 2

Mega Pass is back! Race through 30 Mega levels and enjoy your epic upgrades.
Along with free tier benefits, your premium rewards would never disappoint you.
Collect all the rewards from necessities to rare in-game items now. Mega season 2 starts from 3/7 to 5/8.
2. Weather option on/off


Put your weather on or off as you wish. This option is to provide players with better in-game experience.
Simply go to Option > Game setting and find the new feature.
3. Improvement : Message box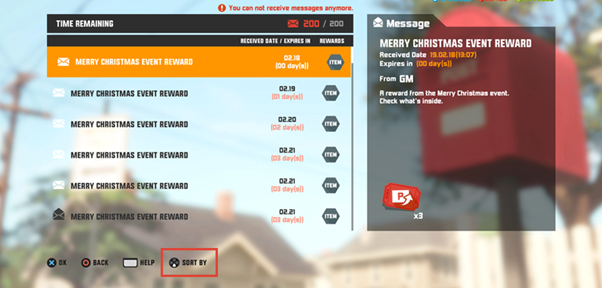 Hard to find your reward? Stop rummaging through your Message box to check unclaimed rewards!
You can now sort your Messages in your own convenient way. Choose to sort your messages by Time remaining,
Unread and Time received. Make sure not a single messages slip away from your watch.
[New Contents]
1. New Accessories

2 Brand new back pack suited for casual strolling into the wild FS City!
Introducing Blue zip Backpack and Red zip Backpack for 27 Points each!
2. New 'Together' Celebration
That move only the perfectly matched soul mates can handle! Show your teamwork with new celebration, Foot shake.
3. New MVP Scenes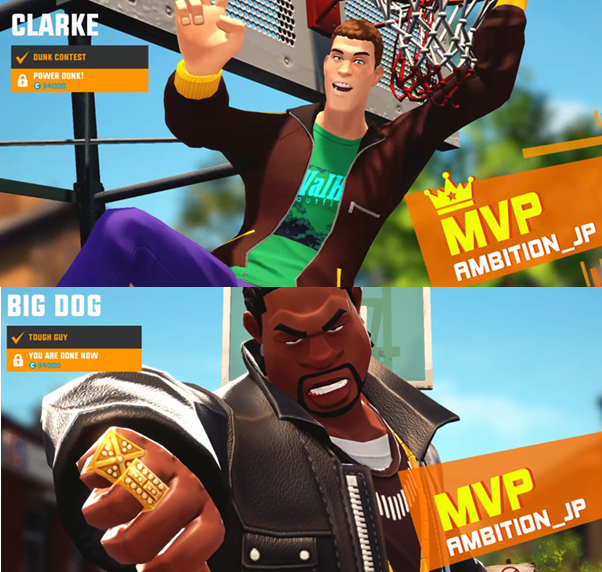 New MVP scenes for our big lovely beasts! Check out what these two can do!
[Events]

1. Ability Card pack package

About time to shuffle your cards? Have them in a bunch for 270 Points.
2. Extra Point Event

Your purchases come with more points! Don't miss your chance to enjoy free Points.
3. Log in Event
Good thing happens when you come to FS city every day! Pack away tons of goodies with daily check in.
[Bug Fixed]
- Minor bug is fixed.
[UPDATE] Patch Note ver. 0.2.50 (January 31st)
January 28 , 2019 / 6:58 PM
Greetings from 3on3 Freestyle.
The followings are the updates for this month.
[Patch Note Highlight]
[System]
1. P-Buff (Position Buff)


Be an expert in your position! Your characters can share buffs with the group in the same position.
You can have as many as 8 buffs. Find out what it's about and how you can best take advantage of this new feature!
How does it work?
Navigate to P-buff on Management and assign a character to a slot.
Add a buff on Position buff 1 and a random buff from the list on the right would come up.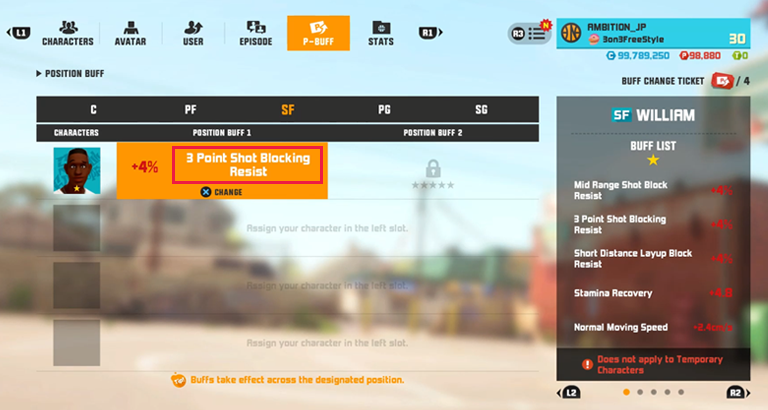 Then move to the other SF position character to see if he got the buff. Like these screen shots, for example,
you can see Amanda has William's Position buff and so as your other SF characters.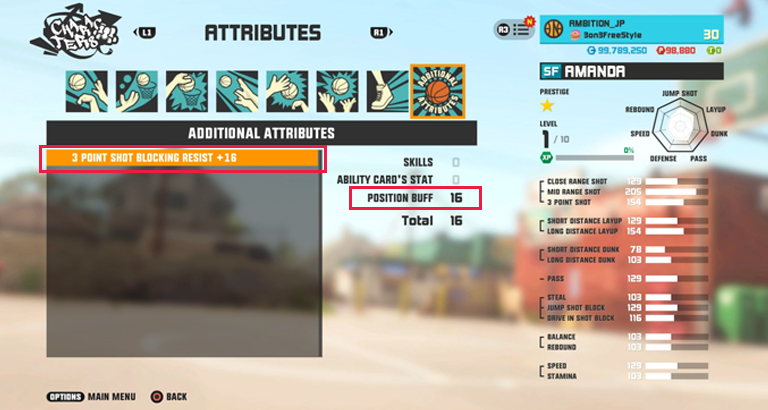 Q&A
1) Are the buffs different by characters?
: Yes, they are. Browse through characters on P-Buff page and check the lists of buffs.
2) How can I unlock the rest of the slots and Position Buff 2?
: Unlock the 3rd at lv.10 and 4th at lv.20. Position Buff 2 is available when the character you've assigned is P5.
3) Can Buff 1 and Buff 2 have the same buff?
: Yes, the same buff can come up twice and give you a double effect!
4) Does the stat change by Prestige?
: Yes, when your character in the slot have higher Prestige, you get better buff.
5) Can't I choose buff from the list?
: I'm afraid you can't, although, you can change your buff to another random from the list by using Buff Change Ticket.

2. Character Stat Boost Event

Here is an event that gives you rewards for any upgrades on characters you have.
Complete missions and collect as many stars! 120 stars give you the most wanted item, Intensive Manual.
Each mission has 3 steps, higher the step is, harder it gets but rewards are guaranteed as you get more stars!
Find out what these missions are about.

Mission 1: Level up
Mission 2: Prestige up
Unlock your Prestige by completing Mission 1 and open it with Manuals!
Mission 3: Skill up
Use skill Training ball and raise your skill level.
Mission 4: Purchase Gold/Platinum card
The count goes up for every individual card you purchase. Buy 10 card packs, your count goes up by 10.
Remember it's not about how many times you purchase, but about how many cards you purchase. ​

[New Contents]
1. New Outfit
The best design for '2018 looking for 3on3FS Rookie designer' has arrived!
Check out this brilliant new design, Unicorn Galaxy, made by Nem**aroZZ!

Calling all costume lovers! FS City Sheriff is here in FS town!

2. New Celebrations
Confidence goes a long way on FS court! Check out 2 new celebrations, Tumbling and Hello!

3. Event: All characters 30% off
Time to gather up your squad! Make FS City crowded with new recruits!
All characters purchasable with Coins and Points are 30% off during 1/31 – 2/27 23:59(PST)

4. 5 Packages for all positions
Packages tailored for your upgrades! Have all your 5 positions upgraded at once.
You can purchase each package up to 5 times! Packages on sale during 1/31 – 2/27 23:59(PST)

5. Hot time Package
Hot time sale for packages from basic necessities to super rare items!
Find out what each weekend is offering and make sure you don't miss it!


6. Extra Point Event

More Points to the amount you've purchased for a week!
Event is for every week in Feb and extra points will be sent during the following maintenance.
| | | | |
| --- | --- | --- | --- |
| All Purchase made during | 2/4 - 2/10 23:59(PST) | 2/11 - 2/17 23:59 (PST) | 2/18 - 2/24 23:59 (PST) |
| Extra Points Sent on | 2/14 | 2/21 | 2/28 |
[Change]
- Christmas court is removed.
[Bug Fixed]
- Minor bug is fixed.
[UPDATE] Patch Note ver. 0.2.49 (January 4th)
January 2 , 2019 / 5:29 PM
Greetings from 3on3 Freestyle.
The followings are the updates for this month.
[Patch Note Highlight]
[System]
1. Dual Ability Card System

Get two giggles from one tickle! Introducing Dual Ability Card, which now allows you to have
two skill boosts with one card. The system, which could give your characters big upgrade
as it is, comes with 2 extra slots only for your choice of Dual cards!
Get them now from Gold or Platinum card packs!

These are all you need to know about Dual Card System. Read this through and raise your winning chance!
- Dual Ability Cards are either Silver, Gold or Platinum grade.
Hence, to get Dual Ability Cards, you are encouraged to open Gold or Platinum card packs!
- Do you have only 1 pizza slot open? Raise your user level to 30 or above and unlock another slot!
- Sell one Dual Card and get double! Selling this Dual cards give you 2x coins.
It only makes sense as the card has two stat boost.
[New Contents]
1. New Outfit
Who wouldn't want Golden Dragon for the new year? Get this legendary animal into your fashion.
Check out yet another winged back pack as well!

2. New Avatar Outfit
Ever thought your avatar is way too cute? Give your avatar a fierce wrestler look for a chance
with newly added 6 tops, 6 bottoms and 6 head accessories.

3. 2019 New Year Pkg
Ready to welcome 2019? Here comes the package to celebrate 2019, year of Golden pig!
We say pig brings you prosperity. Grab a pig now!
Package only available during 1/4 – 1/16 23:59 (PST).
This package contains New year's Buff ball 100%(15d) + 2019 Name tag + New year's jersey patches.

4. Card Promotion event
5 Power deal is back only for a limited time, 1/4 – 1/16 23:59(PST)!
Get a bunch this time with different deals!
Find out how you can best take advantage of the event:
http://3on3.fsgames.com/en/news/announcement/ps4/705

5. Gold Card Pack ticket Pkg
Get 20 Gold Card Pack Tickets 50% cheaper!

6. Platinum Pack on sale
Limited time offer! Get your platinum Card Packs for 33 Points during 1/4 – 1/16 23:59(PST)

[Change]
- You can get cards that boosts characters' unique skills from combining cards.
[Bug Fixed]
- DLC issue happening in NA region will be fixed. Find the issue at;
http://3on3.fsgames.com/en/news/announcement/ps4/854
- Minor Bug has been fixed.